In 2006 and 2007 several members of the Economic Cooperaton Organization issued stamps with a similar design to commemorate the first anniversary of the third meeting of the postal authorities of the Organization.
The flags at the top of the stamp are from left to right: top row-Afghanistan, Azerbaijan, Iran, Kazakhstan, Kyrgysztan; bottom row: Pakistan, Takjikistan, Turkey, Turkmenistan, Uzbekistan. The map appears to have been taken directly from http://www.ecosecretariat.org/Countries/map.htm. The only differences are the color of the small area intruding into Pakistan and titled "Disputed territory of Kashmir," which appears in a light blue on the stamp and a medium brown on the source, and the small print in the light blue area of the map which says "Persian Gulf." The logo in the lower right corner is the symbol of the ECO.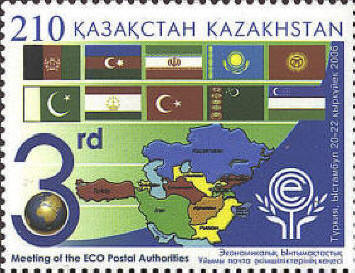 On September 15, 2006 Kazakhstan issued a similar stamp, but with the wrong location for the meeting, Istanbul (along the right side of the stamp in Cyrillic characters). The location of the meeting is wrong, and a week after it was issued the stamp was with drawn and reissued with "Istanbul" crossed out and "Ankara." printed on the face of the stamp in gold print.
(Because the gold print is so reflective it appears as black on the scanned image.)