New Zealand 230
There are two errors on the map that reflect errors in the original map. At the southern tip of the South Island, Stewart Island is shown as a possible peninsula, while off the east coast of the South Island, Bank's Peninsula is represented as an island.
What does not seem quite correct as a representation of Cook's map are the latitudes that are marked. On the map 40° and 46° are shown as lines, but on the stamp 45° is substituted for 46° and a third line is added for 35°.
New Zealand 434, issued in 1969, shows the same source errors concerning Stewart Island and Bank's Peninsula.
What is not an error is the longitude labeled 190°. While today we label longitudes both east and west from Greenwich to 180°, that only began after the 1894 Washington Conference on the Prime Meridian.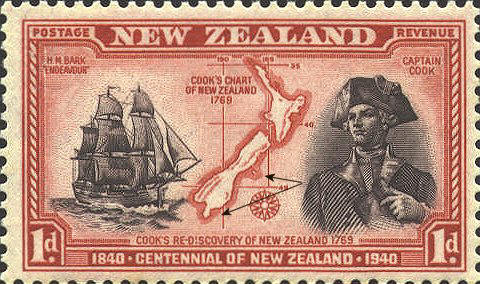 New Zealand 434