Juan de la Cosa was the owner of the Santa Maria, Columbus' flag ship. He accompanied Columbus on his first two voyages to the western hemisphere (1492, 1494). De la Cosa drew the map in 1500 (some say 1502) and signed it beneath the image of Saint Christopher on the west end of the map. He continued his own investigation of the coast of the Americas until 1504.
The map consists of two panels. On one side is the world of Europe, Africa and Asia. On the other the new world found by Columbus between 1492 and 1500. The two panels are drawn to different scales, with the new world on the larger scale. Rhumb lines, compass roses and a scale give the feel of a portolan chart.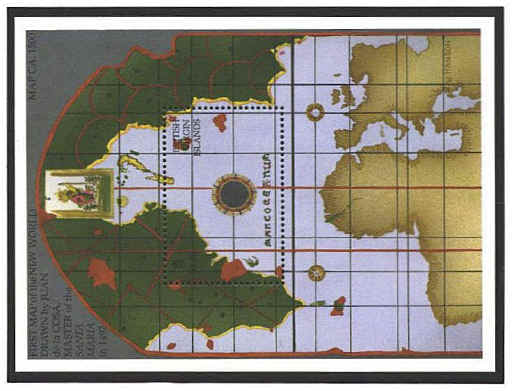 The title under the stamp on the souvenir sheet is "Columbus with Christ Child." The image is actually St. Christopher with the Christ Child. In Greek "Christopher" means "Christ bearer." Originally Reprebus, he took the name "Christopher" at his baptism around 306. He is the patron saint of travelers.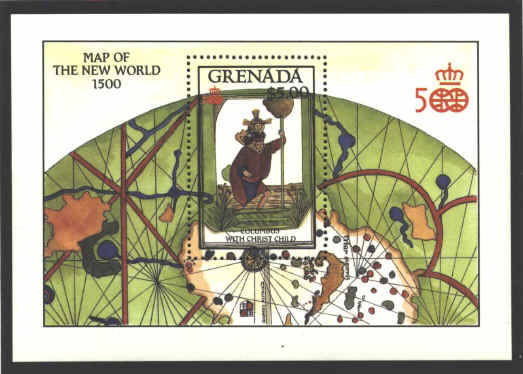 A variety of detail appears on the map. For example, four English banners in the north, and the inscription Mar descubierta por los Ingleses, recall the voyages of John Cabot (1496-1498); an inscription on the Coast of Brazil states, "this cape was discovered in the year 1499 by Vincenti," meaning Vincenti Yañez Pinzón, whose expedition landed there.