The Canal Zone
In 1915 Panama issued a stamp with a shaded relief map of the Isthmus showing the route of the canal. The map is oriented with the top of the stamp nearly due east. Two place name are indicated, Colon on the Caribbean and Panama on the Pacific. The man-make Lake Gatun is shown to the left of center.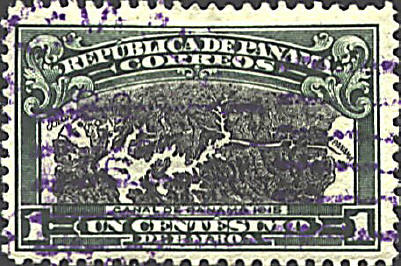 25th Anniversary of the
Opening of the Panama Canal
The stamp was issued in 1939 to commemorate the 25th anniversary of the opening of the canal, and the 10th anniversary of Air Mail. The size of the Canal is out of scale.
Thatcher Ferry Bridge
The stamp was issued in 1962 to mark the opening of the bridge spanning the Panama Canal and uniting the northern and southern hemispheres. Errors with the bridge missing exist.