Bernard Joseph Stanislaus Cahill (1863-1944) published his "Butterfly" projection in 1909 and continued to improve it, and patented it in 1913 (U.S. patent 1,054,276, February 25, 1913). His objective was to preserve the relative sizes of the continents and the relative distances between points in a two dimensional form. He was recognized for his projection and was made a Fellow of the Royal Geographical Society. In 1913 he incorporated the Cahill World Map Company, but neither his map nor his company were successful.
The map is projected on a regular polyhedron with eight faces which is then flattened into the butterfly shape, as on the stamp from Mexico in 1964. The translation for the words at the bottom of the stamp, Talleres de Imp. De Est. y Valores Mexico is "Workshops for the Printing of Postal Stamps and Stocks." In addition to these elements in the design there is also a sword on the right side of the map and the Mexican coat of arms.
The official description of the coat of arms is as follows: The National Coat of Arms is featured by an Mexican eagle exposing its left profile, the upper part of the wings in a level higher than plume and slightly displayed in a battle attitude; with the sustenation plumage downwards touching to the tail whose feathers are arranged in natural fan. It puts its left grasp on a bloomed nopal that is born in a rock that emerges from a lake. It is grasping with the right grasp and the beak, in attitude of eat, a curved serpent, so that it harmonizes with the whole. Several "pencas" of the nopal grow to the sides. Two branches, one of encino to the front of the eagle and another one of laurel opposed, form a lower semicircle and they are united by a ribbon divided in three strips that, when the National Coat of Arms is represented in natural colors, correspond to those of the National flag.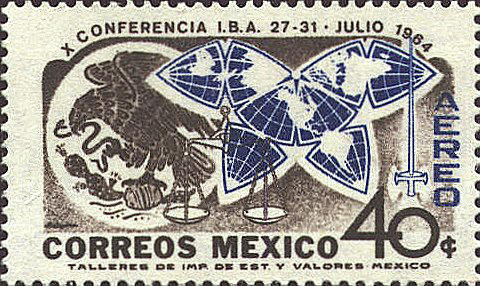 The stamp was issued to mark the 10th Conference of the International Bar Association, which was founded in 1947, in Mexico City. There seems to be no particular association between Cahill's map and either Mexico City or the I.B.A. except that Cahill died September 22, 1964, while the conference was held in July that year.