On October 5, 1981 Monaco issued a stamp marking The First International Arctic committee Congress which met in Rome, October 5-9. A part of the design is a rendering of Willem Barentsz' map of the Arctic, Delineato cartć trium navagationym which was published posthumously in Amsterdam in 1598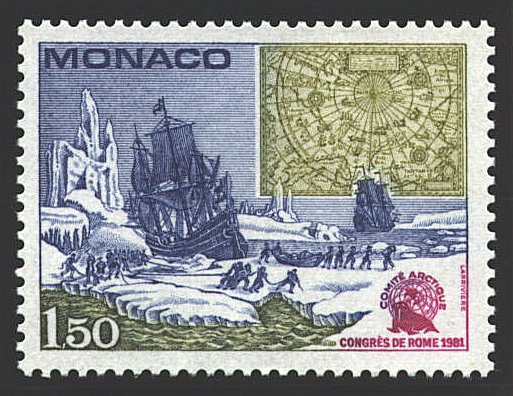 Barentsz was born in Terschelling in the Netherlands in 1550. He is the most famous of the early explorers of the Arctic. He sought a Northeast Passage to Asia and the Pacific. In 1596 he made his last voyage, discovering Spitsbergen, and wintering in Novaya Zemlya. In June 1597 he and his crew tried to reach the mainland in open boats. Barentsz died on June 20. The Barents Sea, an extension of the Arctic Ocean lying North of Norway and Russia, was named for him in 1853.
Barentsz' route to Novaya Zemlya is marked on the map. It begins in the lower left corner, rises northwest and east to end a little past the center of the map.