The armillary sphere is not strictly an instrument used for mapping or navigation. However, it was used to determine the celestial latitude and longitude of celestial bodies from a fixed position, and helped astronomers understand the heavens, which, in turn, helped navigators use the heavens to determine their locations.
Moeller ~ 1687
The armillary sphere was made by J. Moeller in 1687 and today is in the National Mathematical and Physics Collection at Dresden.
Miklos Pinther, "...More on Armillary Spheres,"
The Carto-Philatelist, 32:2:(1987)56.
16th Century
Matteo Ricci appears as a Chinese scholar on this stamp. The armillary sphere is probably from the 16th century. The stamp was issued in 1983 to mark the 400th anniversary of Ricci's arrival in China.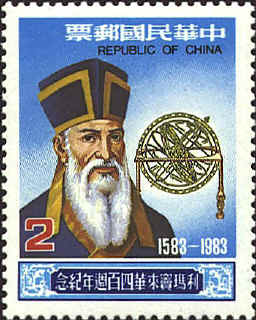 Geographia Blaviana
The armillary sphere below is from the title page of volume 5 of Jean Blaeu's Geographia Blauiane published in Amserdam in 1667. In addition to the armillary sphere there are figures of Chronus and Hercules and the motto, "Indefessus Agendo" (for which I have found no translation).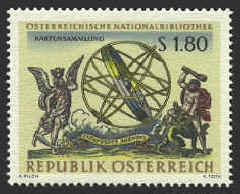 Macau 393
This stamp was issued to commemorate the 5th centenary of the death of Henry the Navigator in 1960.